In the Internet age, AR (augmented reality) has been accepted by more and more art workers as a very creative expression.
Through AR technology, the canvas of limited size can be extended infinitely, giving the artwork a strong storyline, so as to achieve the purpose of stimulating the audience's senses and providing an immersive experience.
Why is AR suitable for displaying works of art?

Lower barriers to AR experience and higher audience participation
In the contemporary era, almost every person has a smart phone, so that every viewer has the opportunity to open an AR experience through an APP!With the use of WebAR and small program AR technology, we don't even need to download the APP. You can get the experience by scanning through social platforms, or just the camera, and you can share it directly with friends. The spread of the work has also been greatly improved!
In August this year, Apple and New Museum in New York jointly curated the "[AR] T Walk" AR art exhibition. Users only need to download the "Apple Store" app to watch Nick Cave's art work "Amass" in AR format.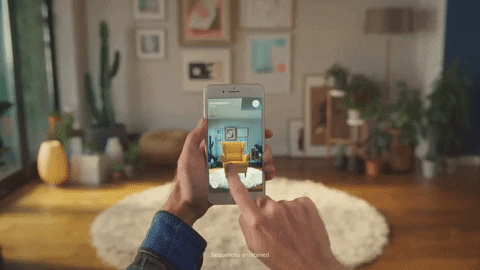 AR makes art works more creative
AR is highly extensible. Artists can selectively "enhance" the rendering effect of some elements in their works, adjust the size of virtual materials, etc. according to their needs, so as to improve the fit between the work and the real environment. More realistic immersion effect.
Butterflies in the "reality" fly into the paintings to bring out dynamic effects and make the works more vivid
Mature AR production tools make art creation easier
It helps users to easily create interactive and complex AR scenes without any programming ability, and can also experience and complete sharing directly through web browser!
Users only need to import all kinds of materials into complete the scene editing online, and there are a large number of high-quality public materials for users to choose, helping them to create more refined WebAR scenes!
WebAR online production platform

We are still constantly updating and iterating OneStopAr, bringing transformative augmented reality experiences to more industries!
If you encounter any problems during use, please contact us directly